Join us for the social event of the year
Join us for exceptional entertainment
Join us for a dinner of distinction
Join us for an evening of extravagance
Join us for delightful dancing
Join us for amazing auction items
November 8, 2014 • University Plaza Hotel & Convention Center • Springfield, MO
6:00PM to Midnight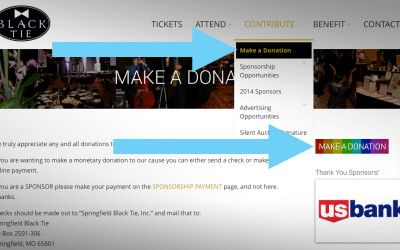 We've updated our website to make this feature easier to find.  We appreciate at the support we receive every year.  We could not do this without all our fantastic sponsors and contributors out there. You can make a donation online by either clicking the menu...
Thank You Sponsors!
Our NEW Facebook Page – Like It!
Looking for anything?
Springfield Black Tie, Inc. is exempt from Federal Income Tax under section 501(c)(3) of the Internal Revenue Code. Contributions made to Springfield Black Tie, Inc. are tax deductible under section 170 of the Code and bequests, devises, transfers or gifts are qualified as tax deductible under section 2055, 2106 or 222 of the Code.