2018 APPLICATION
NOT OPEN YET.
STAY TUNED.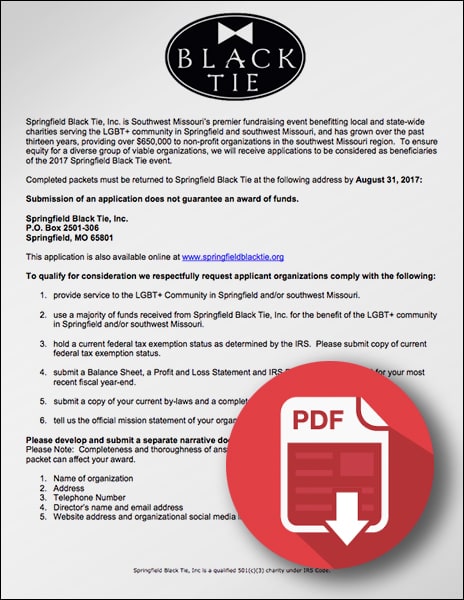 Springfield Black Tie, Inc. is Southwest Missouri's premier fundraising event benefitting local and state-wide charities serving the LGBT community in Springfield and southwest Missouri, and has grown over the past fifteen years, providing almost $769,000 to non-profit organizations in the southwest Missouri region.  To ensure equity for a diverse group of viable organizations, we will receive applications to be considered as beneficiaries of the 2017 Springfield Black Tie event.
To be considered as a beneficiary of Springfield Black Tie Inc., we respectfully require prospective non-profit organizations comply with the following:
Completed packets must be returned to Springfield Black Tie at the following address by August 31, 2018.
Mailing address:
Springfield Black Tie
P.O. Box 2501-306
Springfield, Mo 65801